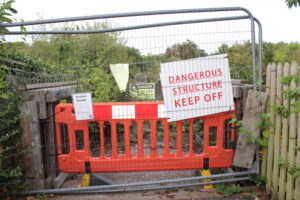 The Maidenhead Advertiser recently published* an updated version of the Berry Hill Footbridge.  Apparently the removal costs of c. £100,000 were paid by Bucks County Council.
Update provided on Taplow's Berry Hill Footbridge following removal of central section  – by Jade Kidd  jadek@baylismedia.co.uk 10:15AM, Friday 27 October 2023
An update has been provided on the progress of replacing a section of a Taplow footbridge which has been closed to the public for more than two years.
The Berry Hill Footbridge, situated near Taplow Riverside Park, runs over the Jubilee River and is part of the Thames Path.
The footbridge has been closed to the public since May 2021 due to 'structurally-critical timber sections' of it 'deteriorating beyond repair'.
According to documents from the Buckinghamshire Council Local Access Forum in July 2022, the 37-metre mid-section of the footbridge was removed in December 2021.
In a case study on its website, contractor Topbond, which removed the central section of the footbridge, stated that 'a lower cord has failed' and the bridge 'was closed to the public due its dangerous condition'.
The company added: "The bridge was monitored on a regular basis by Topbond and it was found that the structure was becoming progressively more unstable and as such needed to be removed as soon as possible to avoid the structure collapsing into the watercourse."
The council said that it has a legal duty to provide a replacement structure and has revealed that it will be working with its consultants Atkins to 'commission delivery of a replacement for the missing mid-section early next year'.
END OF UPDATED ARTICLE.
Link to previous Berry Hill Footbridge post on this site 
* The published version may be found by following the link below but the text is beyond a paywall.
https://www.maidenhead-advertiser.co.uk/gallery/taplow/189079/update-provided-on-taplow-s-berry-hill-footbridge-following-removal-of-central-section.html